Lack of Healthcare Specialists in India's villages and towns limits the purview of healthy lives in the country
India reels under a glaring medical disparity with 75% of the healthcare infrastructure concentrated in urban areas – serving only 27% of the population. The remaining 73% of the country's population lacks access to advanced healthcare facilities – the lack of which majorly stems from the lack of doctors in these regions.
The rural healthcare sector in India is characterized by under-staffed facilities with inadequate infrastructure and low availability of medicines. According to a KMPG report, 74% of Indian doctors are working in the urban areas.
The country faces a shortfall of around 82% in specialists like surgeons, gynaecologists, physicians and paediatricians, almost 40% in laboratory technicians and a critical 12-16% shortage of nurses and pharmacists in community and public health centers.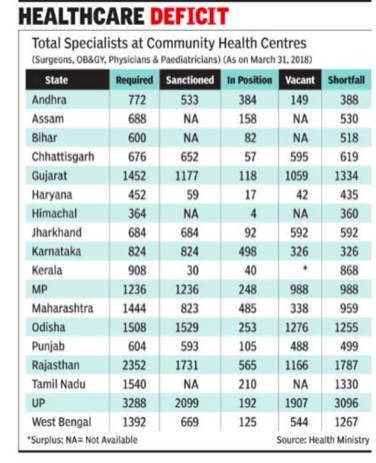 However, this staggering disparity is not just limited to doctors.  As per a survey, the deficit can also be seen in areas such as: 
Infrastructure – Lack of adequate infrastructure in rural areas

Doctors and Nursing staff – Poor doctor-patient ratio

Insurance – Total absence of insurance cover in most regions

Affordability – Lack of tertiary care in the country due to higher prices in rural areas

Medical Stores – Lack of access to drugs, syringes, and basic medicines
While the lack of infrastructure can be attributed to slow development of the healthcare industry, a lack of medical specialists can be attributed to the lack of incentives, and amenities for healthcare professionals in rural areas.
Dr. Anup Sadhu, a radiologist, stated, "The situation of healthcare in small towns and cities of India has not changed much during the past decade, though it is difficult to gauge at it from outside. The patients there are still in the hands of quacks and unscientific medical practices. Most of the advanced healthcare centres are in the metros. They have to travel long distance for advanced medical treatments or during emergencies and their only viable transportation is private transport which many cannot afford."
That said, the condition of healthcare in India has remained rather static from 2015-16, when the central and state governments urged private healthcare units to set up services in rural regions. While some states organized summits and campaigns, some even introduced subsidies for private hospitals.
To offset this condition, some robust initiatives have been undertaken for countering issues like the lack of specialists through infrastructural changes, Technological solutions or community efforts.
For instance, Vaatsalya Healthcare, a WHO member, strives to bridge the gap in healthcare services by building and managing hospitals/clinics in semi-urban and rural areas. Vaatsalya Hospitals provide affordable services in an efficient and friendly environment at Hubli, Gadag, Karwar, Bijapur, Mandya, Raichur and Hassan (Karnataka).
Like Vaatsalya Healthcare, Nayati Healthcare, a private hospital chain headed by Niira Radia, is making an impact in the hinterlands of Uttar Pradesh. Nayati Healthcare pioneers the concept of taking the most advanced tertiary level medical facilities to people living in Tier-2 and 3 cities. The Group's flagship hospital, Nayati Medicity, Mathura started in 2016 is a Multi Super Specialty hospital with 377 beds covering 22 Specialities.
"Nayati's mission is to take super speciality world class healthcare closer to the people living in tier II and tier III cities of the country", stated Niira Radia chairperson of Nayati Healthcare. "We are the only quaternary care hospital in the region catering to a population of over 30 million".
It is the first hospital in a Tier III city to have received NABH accreditation and the only NABH approved blood bank in Uttar Pradesh. This facility the only Multi Super Specialty hospital in the region which extends end to end Cancer Care including radiation and Bone Marrow Transplant.
Apart from the infrastructural and social initiatives by Vaatsalya and Nayati, respectively, SMART Health India, a health-tech initiative, offers a unique, low-cost, high-quality healthcare delivery system based entirely on technology. Developed by George Institute researchers in India, Australia and the UK, the system enables community health workers and doctors to provide state-of-the-art healthcare through advanced mobile health technologies.
The conflux of multiple systems ought to bring a semblance of balance to healthcare systems in India's hinterlands. That said, the development of newer systems and the creation of a better public infrastructure might help improve the overall health quotient of India's villages and towns.