Like most people, you were probably really bummed out to hear that The Office is leaving Netflix in 2021. But did you know that's not entirely true?
Yes, The Office is actually still available on Netflix. However, you can't watch it in the US – only in other countries.
Which ones? And what can you do to watch The Office on Netflix in the US?
We'll answer those questions (and more) in this article.
Where Is The Office Available on Netflix?
Our suggestion is to use StreamCatcher to find out. It's an online Netflix library checker developed by ProPrivacy. It's meant to tell you which VPN server locations you have to use to unblock a specific title. But that also means you can use StreamCatcher to find out which countries a show or movie is available in.
If you look up The Office, you'll see this: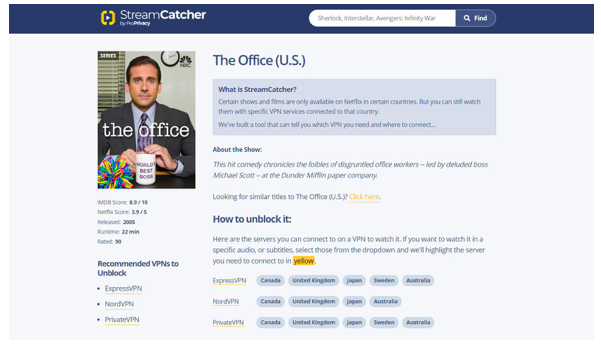 So it looks like you can still watch this awesome TV show on Netflix in Canada, Japan, the UK, Sweden, and Australia. There's a pretty big chance that this title is available in other regions too. If you know which ones, just let us know in the comments.
How to Watch The Office on Netflix US
How do you force Netflix to let you use other countries' libraries to watch this title?
The easiest way to do that is with a VPN. It's an online service that makes it nearly impossible for Netflix to see what country you are from. To achieve that, the VPN hides your IP address by routing your traffic through a VPN server which acts as an intermediary between you and Netflix.
Basically, instead of seeing that you're in the US, Netflix will think you're from a different country – ideally one where The Office is available.
Now, we know that VPNs seem like scary, complicated tools. But they're actually extremely simple to use. It only takes four steps to unblock The Office on Netflix with a VPN:
Get a VPN subscription.

Download and install the provider's app.

Run the app and connect to a server in Canada, the UK, Sweden, or Australia. Don't use a Japanese server since you won't get to watch all seasons (just the first three).

Go to Netflix and log into your account. You'll now be able to find and watch The Office.
How to Find a Good Netflix VPN
We're going to have to refer you to StreamCatcher again. Watching The Office (U.S.) on Netflix with the right VPN is much easier with the tool's help. That's because it tells you exactly which VPN providers can unblock this title without any issues.
How do you know those recommendations are legit, though?
Well, ProPrivacy (the guys behind StreamCatcher) have been reviewing VPNs for years. They stress-test them regularly to see which ones work with Netflix and offer good speeds.
Right now, it looks like these are the best VPNs to watch The Office on Netflix with:
We personally love using ExpressVPN because they have their own proprietary protocol (Lightway) which is extremely fast. What's more, connecting to a server takes just a fraction of a second!
Why Isn't The Office Available on Netflix US Anymore?
Netflix's licensing rights probably expired, and they weren't able to renew them. We can't say why – maybe The Office just wasn't as popular in the US with Netflix users to warrant such an investment (sounds absurd, we know).
Whatever the reason, NBCUniversal (the company that basically owns the show) got the rights back, and moved the series to their own streaming service – Peacock. You can watch the first two seasons free of charge there, but you'll have to get a paid subscription to see the rest.
Does Netflix Know You're Using a VPN to Unblock The Office?
Yes, Netflix probably knows since it can easily detect VPNs.
Does it care, though?
Hard to say – Netflix has an aggressive VPN detection and blocking policy. Whenever they detect a VPN user, they redirect his/her traffic to the Netflix proxy error.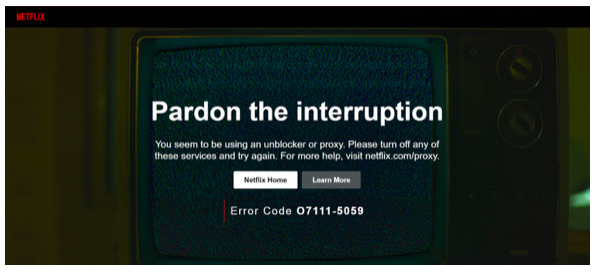 However, they don't take extreme measures – like banning VPN users' accounts (even though their ToS insinuates that using a VPN is against the rules).
Bottom line – the site can block your VPN, but you won't get in trouble because of it. If you use good Netflix VPNs (like the ones recommended by StreamCatcher), that shouldn't happen, though. Those providers refresh their IPs very often, so they can evade Netflix's detection system.
Can You Watch The Office on Netflix with a Free VPN?
Well, you can try. But we can't guarantee that a free VPN will unblock The Office on Netflix all the time.
Why?
Like we just said – Netflix is good at blocking VPNs if they don't constantly refresh their IPs. That's something free VPNs can't do all the time because they lack the financial resources to regularly lease new addresses.
So while a free VPN could unblock this series, you shouldn't expect non-stop access. You might get the Netflix proxy error screen while the next episode loads.
Oh, and here's another problem – free VPNs are often slow and have bandwidth caps. You'll have to settle for SD quality, and will need to always keep an eye on how much data you're using before you let another episode load.
If you ask us, that doesn't sound like fun at all. Plus, paid VPNs aren't even that expensive if you get long-term plans.
Which VPN Do You Use to Unblock The Office on Netflix?
Do the ones we mentioned work well, or do you use other providers? If you do, please tell us which ones and how well they work (speeds, do they unblock Netflix all the time, how easy is it to use them, etc.).