Putting people on" is what Break Media all about.
Since the time the world of technology has seen an exponential rise with various new technologies taking place in the market changing the landscape of the industry, more & more youngsters are also getting transformed into influencers in the industry to effectively leverage this stupendous medium to grow their follower base & popularity. Making use of this trend, Break Media is a leading media company of the US that works towards developing & growing new talents so that they can get a platform to showcase their talents to the world.
By making use of various effective strategies, Break Media helps artists & influencers face the world with confidence & let them know about what they are capable of. The agency has created a special place for itself in the social media world, entertainment & multiple other sectors. Joey Hickson, the owner of Break Media is a well-known social media influencer who with his knowledge, tactics & techniques built this agency to think of the greater good of athletes, influencers & artists of the world. Hickson & his team's ideas are the ultimate solutions for building a career for an artist or an influencer. With knowing the best & the most advanced algorithms of social media they search for perfect solutions to grow an individual digitally.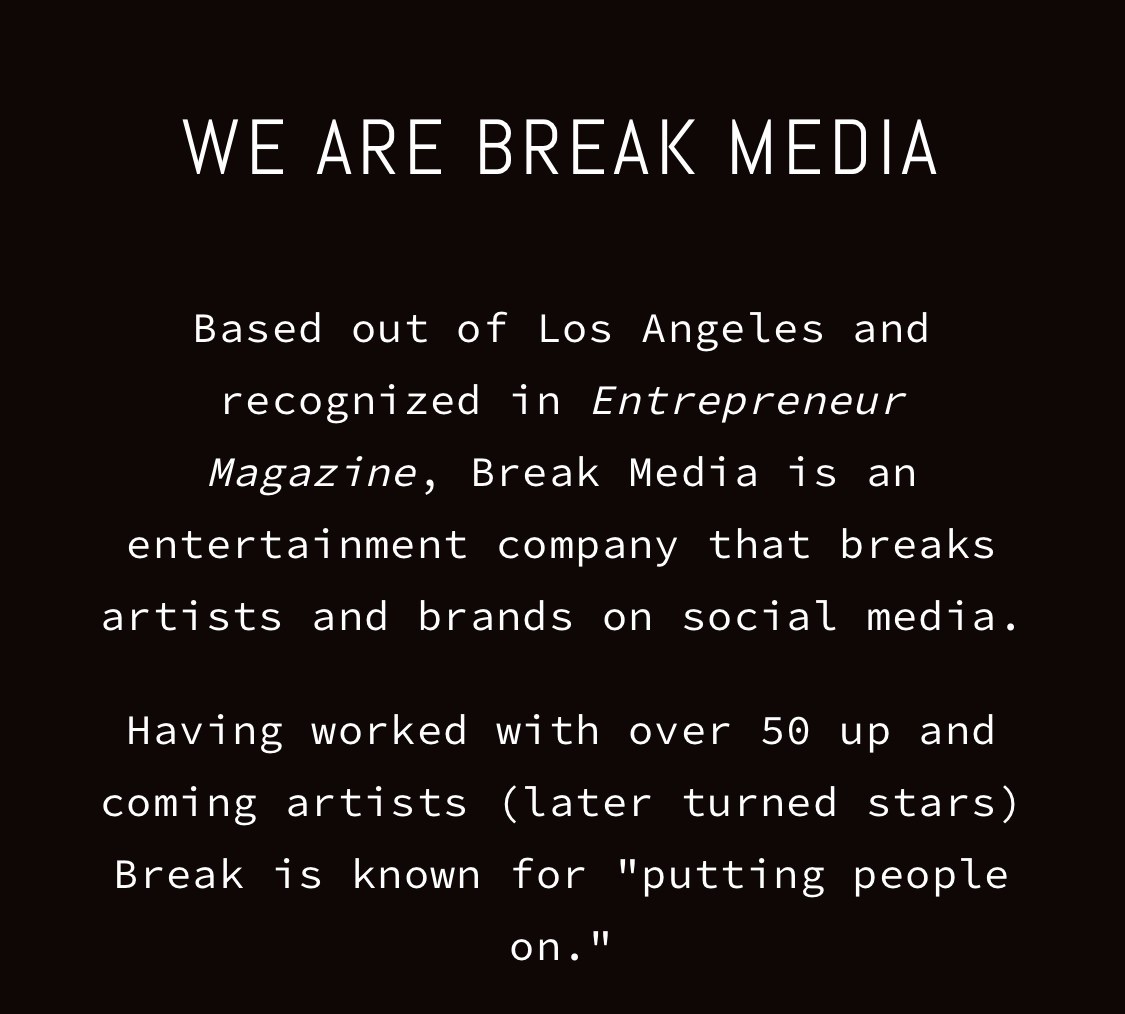 Break Media which is based in Los Angeles, California, is the top media company that is literally changing the lives of many youngsters around the world. There is a long list of services that cater to its clients, including artists, influencers, athletes & also companies. Their services include influencer growth, brand management, social media growth, music promotion, artist development & also Instagram.
With developing novel concepts in social media, the agency keeps up with the trends of the industry as well & gives the best results to their clients by updating itself in a timely manner. Every strategy they use for their clients is unique in its own way & is created based on the individual requirements of the clients. Hickson still looks for newer ways & strategies that can mould the careers of his clients to make them more popular across the world.
So far, they have worked with 50 up & coming artists who they proudly refer to as stars now. And, some of the prominent names in the list of their clients include artists like Vivian Hicks, Noah Schnacky, Nikki Vainna & many more; athletes like Andre Drummond, Boston Celtics & others & companies like Uber & Burger King, among many others.
Instagram : https://instagram.com/break