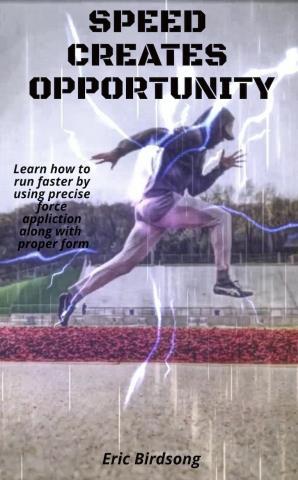 For all students-athletes who desire not only to be the best in their sport, as well as the dream of being offered athletic scholarships from top schools and colleges, thanks to the book, "Speed Creates Opportunity," it is now achievable. The credit goes to the brilliant author, Eric Lamont Birdsong, currently a Speed Training Coach/ Track & Field Coach. The retired U.S. Army non-commissioned officer has penned down a collection of ideas in the book to help young and aspiring athletes reach their goals.
WHAT THE BOOK HAS IN STORE FOR THE READERS
Eric Birdsong always had a passion for sports, yet he chose to join the military. It wasn't until his oldest son, Demaijah, showed interest and exceptional skill that he realized what he was meant to do. So he began gathering as much knowledge as he could, becoming a Certified Speed Training Coach in May 2014, and trained his son, who became one of the top sprinters in Texas in 2016.
With sights set on helping all those who are in need of direction and tips to reach their desired goals, Eric Birdsong expanded his treasure of knowledge about enhancing speed, muscle development, anatomy & physiology, and how the body works. Recollecting all his understandings, Eric Birdsong set down to write the book Speed Creates Opportunity, which is scheduled to be released in September of this year!
Speed Creates Opportunity is a how-to book that teaches athletes how to get faster by using proper running techniques and workout routines that Eric Birdsong used to help his son become one of the top high school sprinters in Texas. The book is not only for track and field athletes, but it can be beneficial to all athletes that need or want to improve their speed. Being faster in sports that requires speed can give opportunities to undersized guys and girls, even when the coach doesn't see them as potential game-changers.
As per the author himself,  "The NFL combine is a test of speed strength and agility. When a football player runs a fast 40- yard dash, and he plays a skilled position such as wide receiver, running back, or defensive back their draft stock raises, which will make them a higher pick and potentially earn them more money. In track & field, the faster you are, there is a better chance of getting on a relay team, thus giving you more exposure to college coaches or maybe make an Olympic team. It's the same thing with soccer; if you're fast, you can outrun your opponents and get to the ball faster. There are several ways speed can be beneficial to sports, but these are a few examples."
Eric Birdsong has observed and noted all events that took place in El Paso, Texas, between 2014 and the present. Speed Creates Opportunity is like a tutorial guide that assists young athletes in giving them a direction on how to use proper running techniques to run faster. The book also provides a complete training regimen that can be modified to different age groups depending on how advanced an individual may be,
especially for high school athletes who want to be collegiate athletes. The book is like a comprehensive guide to help them make sure all the requirements are met to give them the best chances of getting an athletic scholarship. The book also provides examples and shows how to navigate through university websites to get the information needed without having to call or email a college coach. The book also entails examples of some of the same emails Eric used to reach out to college coaches to see if they were interested in recruiting his son.
The book also explains how to reach out to coaches via Twitter alongside the importance of having a great image. It talks on a diversity of issues that include keeping the student athlete's social media free of derogatory things such as profanity and questionable character things such as drugs. It also explains the importance of grades in school, SAT, and ACT testing, along with the NCAA eligibility center and sliding scale, the keys to getting an athletic scholarship. The book also teaches students why it's essential to have realistic expectations while trying to get athletic scholarships.
ABOUT THE AUTHOR
Eric was born in Saint Louis, Missouri, on March 11, 1980. His father, Eric Birdsong, SR, served for 26 years in the military. Being a military kid meant moving a lot and gaining a handful of experiences as well.
As a kid, he was fond of sports and grew up to be an athletic person with football and track & field as his favorite sports, but Eric chose to join the U.S. Army like his father. In June of 1999, after graduating from Continental Academy, he enlisted in the U.S. Army.
Eric served five years on active duty and served five years eleven months in the U.S. Army Reserves. In 2003, he deployed for Operation Iraqi Freedom and was promoted to the rank of Sergeant in the U.S. Army on October 12, 2006, becoming a Noncommissioned officer. Eric retired from the military in May 2010 at the rank of Sergeant E-5, earning several badges and awards from the U.S. Army.
After retirement, Eric pursued a Bachelor's degree in Business Administration with a concentration in management, which was followed by a Master's degree in Business Administration from Trident University International.  Eric is married to Adriana Birdsong, a licensed Clinical Social Worker and therapist. They have three kids, Demaijah, Faith, Isaiah. 
During his son's high school days, Demaijah showed interest in sports and expressed the desire to continue pursuing it as a student-athlete in college. Eric spent a tremendous amount of time and money on finding the right trainer to help his son achieve his dream, but nothing worked, and in the end, Eric decided to take the matter into his hands.
Eric spent a lot of time reading books on physics, anatomy, sprinting techniques, and physiology, alongside attending several seminars to gain new knowledge about the skills and resources needed to excel at various sports. He also attended paid seminars to acquire knowledge from Olympic coaches and professional bodybuilders. In 2014, Eric finally took up a training course and became a certified speed trainer. 
Soon after, Eric began coaching Deamaijah, spending countless hours training. With that, Deamiajh was offered athletic scholarships offers from multiple colleges. The kid won all his races the junior year and qualified for the regional 100-meter race, earning multiple scholarship offers from schools.
"Speed Creates Opportunity simply isn't about a theory that hasn't been tested. I used these same methods to train my son that is in the book and continue to use the same techniques to help kids in El Paso, Texas, get faster and earn athletic scholarships."
Eric Lamont Birdsong